Album Information
Edit
Shelter
is an album by the
Kingsmen
.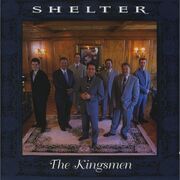 Tenor: Jerry Martin
Lead: Bryan Hutson
Baritone: Parker Jonathan
Bass: Ray Reese
Piano: Andrew Ishee
Bass Guitar: Jason Selph
Drums: Greg Fox
Harmonica, Vocals: Randy Miller
Track List
Edit
Production Information
Edit
© 1999
Horizon Records
Crossroads Marketing
Distributed by Pamplin Music Distribution
Executive Producer: Mickey Gamble
Producers: Jeff Collins & Greg Fox
Tracks Engineer: Van Atkins
Vocals Engineer: Jeff Collins
Mix Engineers: Van Atkins & Jeff Collins
Mastering Engineer: Van Atkins / Horizon Music Group, Arden, NC
Photography: John Miller
Photography Location: Hendersonville Country Club, Hendersonville, NC
Layout Coordinator: Laura Carroll
Graphic Design: Kristen Beahm, Nashville, TN
Musicians
Edit
Piano, Keyboards: Jeff Collins
Drums, Percussion: Tony Creasman
Lead & Bass Guitar: Roger Fortner
Steel, Mandolin, Harp, Fiddle, Rhythm Guitar, Dobro: David Johnson
Orchestrations: Milton Smith
Harmonica: Randy Miller
Album Identification Numbers
Edit
Label: HR07262
UPC: 783895072627
SPCN: 7902563269

Album Notes
Edit
Jason Selph is missing from the photos.
Bryan Hutson's first name is misspelled as "Brian."
Parker Jonathan's last name is misspelled as "Jonathon."
Ad blocker interference detected!
Wikia is a free-to-use site that makes money from advertising. We have a modified experience for viewers using ad blockers

Wikia is not accessible if you've made further modifications. Remove the custom ad blocker rule(s) and the page will load as expected.