Album Information
Edit
Living By Faith
is an album by the
Homeland Quartet
.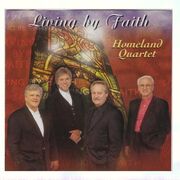 Tenor: Joe Thrasher
Lead: Bill Traylor
Baritone: Ben Speer
Bass: Jerry Sowards
Track List
Edit
Production Information
Edit
Production Info
Edit
© 1998
Homeland Records
Distributed by the Landmark Group
Producers: Otis Forrest & Ben Speer
Executive Producer: Todd Payne
Project Coordinator: Kathy Williams
Tracks & Orchestra recorded at The Sounding Board, Hendersonville, TN
Vocal recorded at Suite 16, Nashville, TN
Tracks engineered by Tommy Cooper
Mixed by Robin Mew & Otis Forrest at The Sounding Board, Hendersonville, TN using the Yamaha O2R Digital Console
Mastered at Final Stage by Randy Leroy
Photography by G.W. Austin
Make Up: Valerie Bell
Graphic Design: McConnell & Associates, Nahsville, TN
Musicians
Edit
Bass: Robin Mew
Drums: Shannon Forrest
Piano: Otis Forrest
Keyboards: Otis Forrest
Acoustic Guitar: Bobby All
Electric Guitar: John Willis
Strings: The Nashville String Machine

Album Identification Numbers
Edit
Label: HD9757 (CD)
SPCN: 7475002667
UPC: 701122975725
Ad blocker interference detected!
Wikia is a free-to-use site that makes money from advertising. We have a modified experience for viewers using ad blockers

Wikia is not accessible if you've made further modifications. Remove the custom ad blocker rule(s) and the page will load as expected.